Year in Review | Improving Care in 2022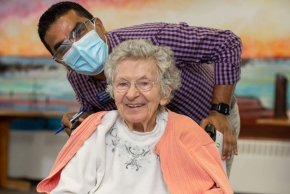 A year-and-a-half since we launched our Improving Care Plan, we continue to take action to enhance the quality of the care our residents receive. It's time to look back and reflect on what we have accomplished together this year.
This year, we:
Doubled the size of our Transitional Care Unit at Extendicare West End Villa in Ottawa, to care for up to 95 patients as they transition from extended stays in the hospital to care settings that better meet their needs
Opened a Behavioural Support Unit at Extendicare Rouge Valley in Toronto, to provide specialized care for residents with complex needs
Completed internet upgrades in 46 long-term care homes for better connectivity, with all remaining homes scheduled for completion in the coming weeks
Launched a new nursing scholarship to support career development for team members who are pursuing additional credentials
Celebrated more than 150 Care Champions, who go above and beyond every day for those we serve
Provided palliative care training for teams in Ontario in partnership with Pallium Canada, with western provinces to follow next year
Increased staffing ratios in our long-term care homes with the addition of more than 1,860 new team-members
Advanced construction on three new long-term care homes in Sudbury, Kingston, and Ottawa, and prepared to break ground on additional projects in 2023
Deepened our commitment to long-term care nationwide, with an agreement to take on operations of Revera's 56 long-term care homes in Manitoba and Ontario, subject to regulatory approval
We have more to do, and the work does not stop here. In the year ahead, we look forward to continued partnership with our residents, families, and team members, to help people live better.
To learn more about our Improving Care Plan, visit: https://improvingcare.ca/