Celebrating Nurses | Nursing team at Extendicare Tri-Town motivated by personal connections to residents in their care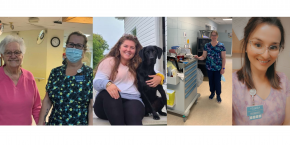 It's National Nursing Week! We are joining the Canadian Nurses Association in celebrating the commitment of nurses and the important role they play in their communities.
In long-term care, nurses are highly trained members of our teams, and their clinical expertise helps to ensure residents receive quality care.
We spoke with three team members from Extendicare Tri-Town, Darlene, Mandy, Cheryl, and Ashley, about their nursing careers.
Darlene
Darlene's journey with Extendicare Tri-Town began in 2001, more than twenty years ago, when she was caring for residents as a Personal Support Worker. In 2005, Darlene decided to go back to school to earn her Registered Practical Nurse certification. She went on to work at a hospital in Northern Ontario where she cared for patients with acute needs.
Nearly twenty years later, Darlene found her way back to Tri-Town and re-joined the team, but this time, as a nurse.
"I work with some of the most caring coworkers in the world. I will likely finish my career here, and I think that is so awesome because this was the place I started." Darlene says.
When asked why she enjoys working as a nurse, Darlene said, "I absolutely love working with elderly people, they have so much to offer and have a lot of compassion. Learning from them is something I don't think I'd ever experience in another line of work."
Mandy
From a young age, Mandy was inspired by nurses around her.
From being cared for by a nurse when she fell off her bike as a child, to working with them during her employment at Kirkland and District Hospital while she was in high school, nurses have always been a positive influence. When she was 17, her Poppy became ill, and she cared for him during the last days of his life. "You are going to make a wonderful nurse," he said to her just before he passed, and those words have stuck with her since.
Mandy has been working at Extendicare Tri-Town as a Practical Nurse since 2015. "This work really does choose you. Once you meet the seniors, you want to stay and help them live the best life they can. I love being part of a team that enables seniors to do things they love. It is always so beautiful to watch a resident enjoying themselves and it means a lot to me."
Recognizing the field as her calling and wanting to continue to expand her knowledge, skillset, and work in long-term care, in 2022 Mandy decided she would like to become a Registered Nurse and applied for an Extendicare Nursing Scholarship. Created in recognition of the shortage of nurses across the country, the Scholarship is designed to support current team members wishing to pursue their nursing credentials. Mandy's scholarship application was accepted, and she is now enrolled in the bridging RPN to Bachelor of Science in Nursing at Nipissing University and will graduate in spring of 2025.
Cheryl
Following in the same steps as her mother, it is no surprise that Cheryl's career journey led her to working as a nurse in long-term care.
As a child, Cheryl remembers visiting the long-term care home where her mother worked and helping the Personal Support Workers (PSWs) make beds for the residents who lived there. What she enjoyed most about these visits was sitting and talking to the seniors her mother cared for. "I loved to hear their stories" she said.
After a long-standing career spanning more than twelve years, providing care to others as both a PSW and a Registered Practical Nurse, Cheryl joined the team at Extendicare Tri-Town as a Registered Nurse almost two years ago.
Cheryl says the ability to form personal connections with each resident in her care is what she finds fulfilling about her work. By forming personal relationships with residents in her care, she says she can do her job more efficiently because she is aware of their individual needs.
Ashley
Ashley has been a valued member of the nursing team at Extendicare Tri-Town for the last eight years.
What does she love most about being a nurse? It was impossible to choose one ! At the top of her list are knowing that she is helping people, learning something new every day and her relationships with residents and her fellow coworkers.
—
Thank you to Darlene, Mandy, Cheryl, and Ashley and to the many other dedicated nurses at Extendicare for everything you do to touch the lives of the seniors' in care, and all those who love them.